The pictures I've been posting from the time when I had cancer have a story behind them, namely Kate's Story.
When I was at the beginning of chemotherapy treatment I appeared in a feature series of photos in the local newspaper, the Hamilton Spectator. A publisher noticed that initial piece and they approached the photographer, Cathie Coward, and my family about turning my experience with childhood cancer into a photo essay and book. This decision was one I made a long time ago, but I remember agreeing without too much deliberation. I think the idea was to create a resource for families with children diagnosed with childhood cancer. At the time it seemed like a good idea.
Over the course of the year I underwent chemotherapy and surgery Cathie Coward photographed me at all stages of the process. She was there during the times in hospital when I was being loaded up with chemotherapy drugs; she was there for my last morning on two legs; she even came to school with me on my first day back after surgery.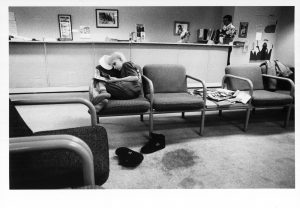 © Cathie Coward
I very seldom look at the pictures – finding the ones to include in this blog has meant flipping through the images for the first time in years. And I have never read the text of the book.
There is a quote from an essay by George Steiner titled 'In Bluebeard's Castle' that reads 'It is not the literal past that rules us, save, possibly, in a biological sense. It is images of the past.' My memories of that time are faint, and when the event I remember has been captured in one of the photos I'm not sure if my memories are of the event itself, or of that image, carried to the present.
When I look at the pictures I have a hard time seeing the girl in the photos as me. And really, she's not me; the photos show the image of the girl who grew up to be me.
I initially chose not to read the book because it seemed unnecessary – I knew the arch of the narrative, and by the end of the chemotherapy I was done thinking about hospitals and childhood illness, and its impact on families. I will never read it now because of the fragility of memory – I don't want my reading of the book to muddle for me what I remember of that time.